Hello, I'm Natika Shewry and I'm a licensed therapist in Washington State and a Telehealth Provider for the state of Florida.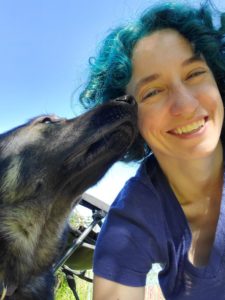 I have a B.A. in Psychology and Expressive Art Therapies from The Evergreen State College and a Master's degree in Counseling and Transpersonal Psychology from Sofia University. I have over 17 years experience in human/social/counseling services. I have worked with individuals of all ages from a variety of different backgrounds. I have worked at several mental health clinics, including specialized training while working as a therapist at a sexual assault center.
I use evidence-based therapies with a foundation in Mindfulness and creativity that will give you tools to deal effectively with the struggles in your life. The main therapies I use are ACT, CBT, and Exposure Therapy. During our sessions, we will work together as a team and I will guide and support you through different techniques. Practicing these techniques outside of therapy will help you solidify these new skills. Everyone is different and no single therapy approach will be effective for everyone. We will work collaboratively to find what matters to you in life and how to fully live the life you want. Whether it's anxiety or trauma that is getting in the way of you living fully, or depression weighing you down, we can work through these barriers towards a more meaningful life.
Disclaimer: I have a weird sense of humor and I find humor to be an important part of emotional health. It's easy to feel like we are drowning in our struggles and sometimes we forget to see the good stuff or remember it's okay to laugh at the ridiculousness of life sometimes. We work on serious stuff in therapy, but that doesn't mean we can't laugh together.
On a more personal note:
I am a highly sensitive person (HSP) and I find this to be a valuable asset, but at times it can be difficult. It allows me to be an extremely compassionate therapist and gives me a better awareness of the sensitivities of others. It also makes me incredibly aware of the injustices and violence in the world, which is a lot to take in sometimes. You might be a highly sensitive person, too.
I also know what it's like to struggle with anxiety, sensory overload, and chronic health/pain issues. I have a condition called Ehlers-Danlos with several secondary conditions such as Postural Orthostatic Tachycardia Syndrome (POTS), Mast Cell Activation Syndrome, and endometriosis. I know how it feels to deal with anxious thoughts and emotions, and manage chronic pain and fatigue on a daily basis. It's not easy. Not at all. There is so much I have had to learn to manage my own struggles. You are not alone in this overstimulated, fast paced world. My passion is to help people learn how to calm their nervous systems down and deal more effectively with whatever barriers are restricting you from living a life of vitality and joy.